芬兰媒体发表习近平卡通形象故事:含打击腐败等七个主题
在习近平主席抵达芬兰首都赫尔辛基,对芬兰进行国事访问的3个小时前,芬兰当地时间13:30左右,芬兰最大的英文媒体《赫尔辛基时报》刊发了题为"习近平主席的故事"系列卡通,该系列共七段,分别以"年轻时做过农民"、"爱读书"、"爱运动"、"重视环境保护"、"推广冰雪运动"、"为尼尼斯特夫人送生日蛋糕"、"打击腐败"等为题,形象生动地展示了习主席的个人魅力,受到网友好评。
《赫尔辛基时报》是芬兰最大的英文媒体,3日,习主席在该媒体发表题为《穿越历史的友谊》的署名文章,文章受到了当地媒体的高度关注,芬兰国家电视台网站全文转载了署名文章。
署名文章发表之后,人民网记者专访了时报总编辑艾利克斯·库洛斯(Alexis Kouros),他评价说:"这是一篇很出色的文章,介绍了中芬两国关系的历史,展望了两国关系的未来,非常非常棒。中国作为友好的大国,保持着对芬兰的持续关注。虽然以前也有一些其它国家的元首在我们报纸发表文章,但这次(习主席的文章)是最好的。我们感到非常荣幸。"
为了让芬兰的读者"走近"习主席,《赫尔辛基时报》联手"人民网"共同推出"习近平主席的故事"系列卡通。对此,艾利克斯兴奋地说:"这是个好主意,这么生动的形象,能让读者更容易记住并接受习主席。"
该卡通系列故事发布在当日(4日)《赫尔辛基时报》的首页首屏,点击该网站,即出现"习主席为尼尼斯特夫人送生日蛋糕"的漫画。下拉便是7幅系列作品,并配以文字介绍。漫画刚刚发布不到半小时,记者的芬兰朋友Antti便打来电话:"我看见你们拥有版权的卡通故事了,太可爱了,我们更喜欢你们的主席了!"
【原文链接】
1. He worked as a farmer for seven years when he was young
Xi Jinping spent his youth in the rural areas of northwest China. In early 1969, when he was just 16 years old, Xi Jinping took the initiative to apply to relocate from Beijing to the countryside. He lived a rural life for seven years, ploughing land, pulling coal, building dams, and collecting manure. Xi Jinping would do whatever work needed to be done. The local people said he "endured hardships and worked hard."
2. He likes to read: He once walked 15 kilometers to borrow a Western classic
Xi Jinping likes to read Chinese and foreign masterpieces. When he was young in the countryside, Xi Jinping once walked 30 li (15 kilometers) to borrow Faust; after he finished reading What is to Be Done? he learned to sleep on a Kang bed-stove through perseverance; and he visited the breakwater where Ernest Hemingway wrote The Old Man and the Sea and dropped by the bar that Hemingway visited frequently in Cuba, which gave him a deep impression.
3. He likes sports: His favorite sport is soccer, and he would swim 1,000 meters every day
He loved playing soccer when he was a teenager. He once took a "selfie" with Manchester City star Sergio Aguero. He also enjoys mountain climbing, walking, and volleyball. Xi Jinping once said that as long as there was time, he would swim 1,000 meters and walk every day.
4. "We should protect the environment like protecting our eyes"
"Lucid water and lush mountains are invaluable assets." "We should protect the environment like protecting our eyes." Xi Jinping attaches great importance to environmental protection, and every spring he personally participates in tree planting activities. In March 2013, when he visited Finland, he proposed strengthening cooperation between the two countries in the areas of environmental protection and forestry.
5. He exposed more than 300 million people in China to winter sports
In 2022, Beijing will host the Winter Olympics. Xi Jinping has pointed out that holding the Winter Olympics in Beijing has exposed more than 300 million people in China to winter sports. Xi Jinping said he likes to watch the ice hockey, speed skating, figure skating, and skiing competitions.
6. He presented a birthday cake to the spouse of Finnish President Sauli Niinisto
Because the birthday of the spouse of Finnish President Sauli Niinisto coincided with the day of the opening ceremony of the Boao Forum for Asia in 2013, they received a gift from Xi Jinping and his spouse Peng Liyuan: a birthday cake. Niinisto said, "We will never forget that moment, such courtesy and surprise was the best gift for us."
7. His all-out fight against corruption has gained public support
After taking leadership of the Party at the end of 2012, Xi Jinping declared that he would "fight every corrupt phenomenon," and since then, a large number of corrupt officials have been disciplined in accordance with the law, including more than 100 officials at or above the ministerial level.
(原题为《芬兰最大英文媒体发表习近平卡通形象故事》)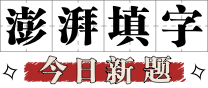 互联网新闻信息服务许可证:31120170006
增值电信业务经营许可证:沪B2-2017116
© 2014-2023 上海东方报业有限公司